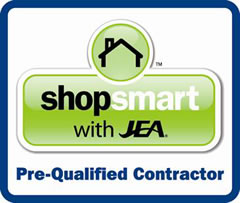 Smart Shop Heating and Cooling From JEA
Your home's central heating, ventilation and air conditioning system (HVAC) is responsible for nearly 50 percent of the energy consumed in your home according to ENERGYSTAR®. That's why energy-efficient choices can mean big savings on your monthly energy bill.
Shopsmart with JEA offers homeowners discounts on HVAC maintenance that can improve your current unit's efficiency or the purchase of a new HVAC system, if you are in the market to upgrade to a more energy-efficient unit.
ShopSmart
JEA's Fats, Oils and Grease Program

A national model of best practices that has reduced sanitary overflows caused by restaurant grease by more than 90 percent.

Instant rebate at participating stores

Compact fluorescent light bulbs (CFLs) use less energy to produce the same amount of light as a standard incandescent bulb and last up to 10 times longer. Use our instant rebate to try CFLs in your home

JEA has become a national leader in the use of alternative fuels. More than 40 percent of our fleet vehicles are capable of using alternative fuels.

Save money, save energy and save resources

Green Built Homes of Florida promotes the use of energy and water efficient building for new, single-family homes constructed in Northeast Florida.

Protecting the St. Johns River

JEA pledged $200 million toward further nitrogen reduction as part of the historic River Accord Partnership. Since 1999, JEA has reduced nitrogen levels by 48 percent.

Want to find out how you can lower your electric bill? Use JEA's online energy audit to get cost-efficient ideas designed to help lower your energy costs at home or in your business.

Alpine Air, Inc.
Homeowner Rebates Available, Smart Shop Heating and Cooling From JEA